Protect your pool from unwanted access with built-in safety features, such as swing-up pool ladders with locking mechanism.. yet another great feature of Kayak Pools.

#1 REASON TO TRUST, SAFETY
Kayak Swing-Up Deck Ladders
We make it easy for you to protect adventurous children or pets with controlled access to the pool.  Another Kayak Pools innovations, a special locking feature that protects your pool while you're away. Heavy-duty yet light, the outer version swings up and out of the way when it isn't being used.  Built from structural aluminum, it will last decades.
Stainless Steel Pool Ladders
The safety of your loved ones is Kayak Pools biggest priority.
Stainless pool ladder is great for sure footed entry and exit to the pool. Rugged, roomy profile has wide treads positioned for safe and comfortable climbing season after season.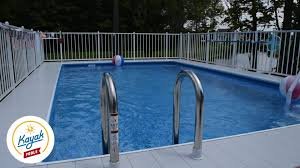 Corner Stairs for Easy Entrance & Exit
Your swimming pool stairs or in water sundecks are the areas where everyone will "hang out". Whether it's the little kids playing or the adults relaxing.
With Kayak Pools® new corner stairs, entering and exiting to go swimming is a breeze. These stairs allow you to easily enter & exit. Almost like if you were gliding. 
Whether you choose to sit as you enter to go swimming, or walk in and out on the extra-large step area, you will experience especially sturdy foundation under your feet. It's said, no one has matched the incredible strength of Kayak Pools stairs. They have survived stringent quality tests, and meet all regulations.
Let Kayak Pool Guys help you own the swimming pool of your dreams right in your own backyard. Check out our 0% for 6 months financing.
Happiness is..
floating in my own backyard pool
CALL 888 788 5464 OR CHAT NOW