A resort in your own backyard! The pool is there during the day for the family pleasure and at night when Mom & Dad want to unwind. With State-of-the-Art construction materials and rigorous inspection, Kayak Pools® ensures that you will enjoy your investment for years to come.
The #1 REASON OUR CUSTOMERS CHOOSE KAYAK POOLS
When you invest in an on ground swimming pool, you know that it is the focal point in your backyard. The planning stage is the time to consider the surround of it as the deck will complete the design and is the element that unites the pool and the landscaping. Above ground pool decks need to meet several criteria and you need to consider the size, durability, heat and slip resistance, the maintenance, the design options, deck shade ideas, the deck railings designs and of course, the cost.
When you choose a Kayak Pools® you will experience 60 years of commitment to quality, built from the bottom up. With your above ground pool from Kayak, you will enjoy a lifetime of security with our latest technology, quality construction, advanced design with minimal maintenance.
Your Backyard Vacation Awaits...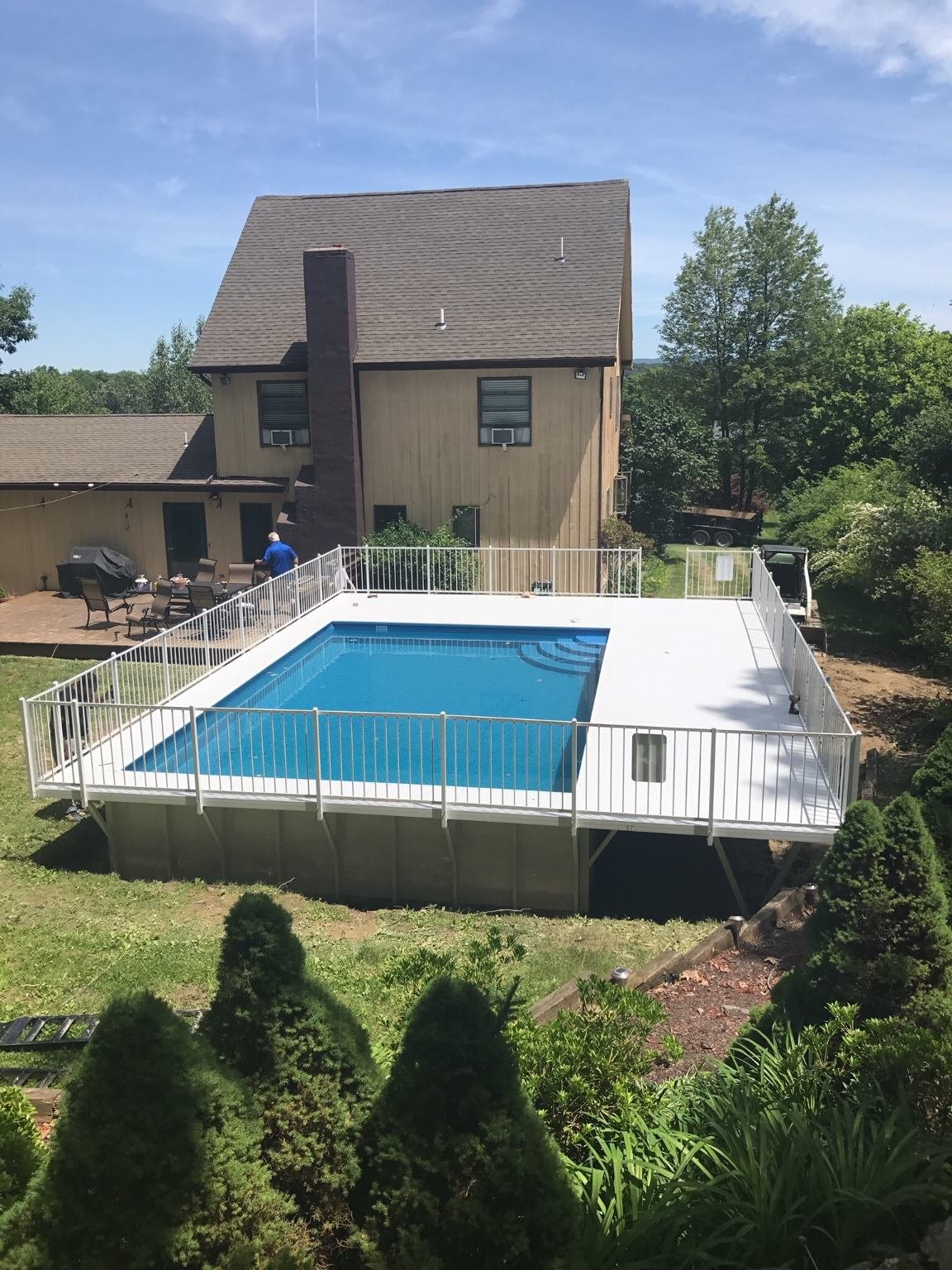 OUTSTANDING FEATURES FOR
Choosing Kayak Pool
Extruded aluminum perimeter provides superior protection for children
Camber-bar system uses suspension bridge technology for structural strength so outstanding that we guarantee it, by design, against the hazard of catastrophic structural failure
3-Way-filtration system constantly filters out sediment – meaning less time on housekeeping and more time enjoying your daily dip!
Stainless steel ladder which allows safe and comfortable climbing. Its polished look never needs maintenance, and it swings up and out of the reach of too curious children!
Water Walls provide lifetime security, requiring no maintenance; they're rust-free, rot-free and maintenance-free forever.
A foundation that employs the strongest grade of extruded aluminum used in the industry today.
Patio decks and walkways are worry-free, because of a unique design of interlocking panels of extruded aluminum – shielded by electrostatically bonded, slip resistant paint.
AMERICA'S CHOICE FOR QUALITY ON-GROUND POOLS
KAYAK® Pools are designed with a CabmerBar Skeleton offering support like a suspension bridge. By exerting equal stress simultaneously on every side, this subtly-flexed rectangle neutralizes hydraulic forces that can burst circular walls. By design, your Kayak® Pool is guaranteed against the hazard of catastrophic structural failure. We build in quality from the bottom up. 
Before the walls go up, Kayak lays down 4.75″ wide one-piece bottom channels of the strongest grade of extruded aluminum used in pool construction today!
Kayak® Pools have braces every two feet on center with baked-on enamel finish, are electro statically bonded, and have stainless steel hardware.
To ensure long-lasting enjoyment of your investment Kayak engineers have developed unique structural solutions to common pool building problems.
Utilizing advanced technology provides new possibilities and therefore making Kayak swimming pools a timeless form of enjoyment.
A rectangular pool gives you much more room for water play than a circular pool of comparable capacity. That's why rectangular pools are the only kind Kayak builds. 
With two-foot walkways on all sides, and different decking options which will complement not only the pool but the overall impression of the patio area.
To protect your property, family and guests, no expense is spared and no detail overlooked in the fabrication of your pool's component parts. Only state-of-the-art materials are used, each part passing Kayak Pools rigorous inspection. 
Kayak Pools even warranties this heavy-duty beaded vinyl liner for 30 years. For extended staying power it is 25 mil thick packed with UV inhibitors and fabricated with supersmooth, snag-free extended lap seams.
Your Backyard Vacation Awaits...
Happiness is..
a day at the pool
CALL 888 788 5464 OR CHAT NOW